Web Portfolio
Here you may browse through some of the design examples that I have either created entirely or improved upon/updated from an earlier version.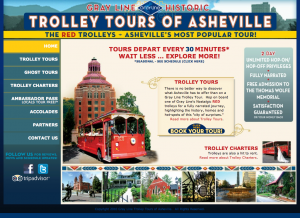 :: Website Design
Gray Line Trolley of Asheville had their brochure redesigned for the summer tourist season, so that meant that their website was soon to follow…
New bus schedules, map and their seasonal Haunted History & Murder Mystery Ghost Tour were the first to be showcased.
Working closely with the graphic designer, we created an exact copy of the brochure. This graphic-intensive site was controlled by optimizing page load times and visitor readability. Furthermore, search engine optimization and keyword research completed this overhaul.
Ultimately after 2 months of extensive work, the website is now easier to read, navigate and overall use — offering a downloadable schedule and map as well as increased social media and reviews.
"Thanks!" [a man of few words]
– Jonathan Helmken
Asheville, NC
www.GrayLineAsheville.com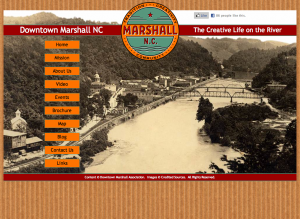 :: Website Design
The Development Association of Marshall needed a website to promote their brand new brochure for the Town.
I worked with the Graphic Designer of their brochure to continue the Town's branding and to capture its spirit of the past, present and future.
Bridging the gap between what was desired and what was needed immediately, as well as providing a foundation of growth in the future was my vision and the board loved it.
– Downtown Marshall Association
Marshall, NC
www.DowntownMarshallNC.com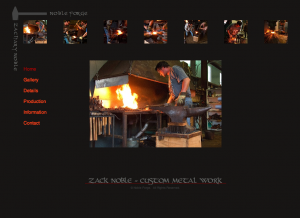 :: Website Design
Zack needed a showcase site for his custom metal work — both to attract new clients, but also to apply for public art commissions.
I created a blacksmith-themed design with the front page that I hope captures the action of metal working.
The final version has 28 webpages with nearly 200 images organized into categorized slideshows with descriptive text blocks to create an interactive viewing of Zack's art — both past and present.
This was the hardest, yet the most rewarding design of mine to date.
– Zack Noble
Bakersville, NC
www.ZackNoble.com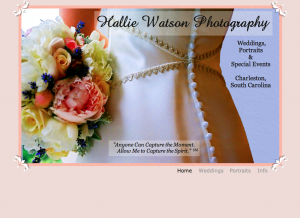 :: Website Design
Hallie had been struggling to find a web designer who could present her wedding photography and personality to perspective clients.
Working to organize and showcase the facets of Hallie's work to differentiate her in the world of wedding photographers was no easy, nor quick task. I worked with Hallie for over a year and a half to perfect her site…
What emerged was a portfolio that needs little introduction and that carries the engaged bride-to-be through her wedding experience. I primarily accomplished this by using slideshows with large images and multiple thumbnails to quickly portray the overall look and feel of each bride's special day without boring them with the full details.
"Thanks so much for all of your continued help, patience and hard work! =)"
– Hallie Watson
Charleston, SC
www.HalliePhoto.com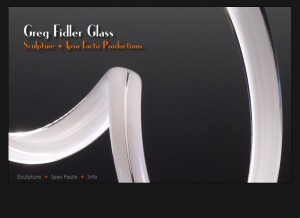 :: Website Design
Greg has two separate and distinct glass companies — Greg Fidler Glass and Ipso Facto Productions — and both needed a showcase site.
I created a new design that increased the image sizes, added descriptive text, allowed product styles comparisons and make it easy and simple to navigate.
"Kreg worked with me to find what I really wanted and then made it happen. Now my website really shines. Thanks."
– Greg Fidler
Bakersville, NC
www.GregFidlerGlass.com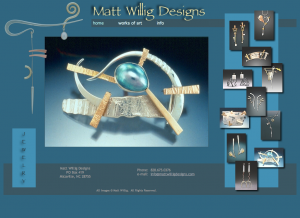 :: Website Design
Matt's web presence was very limited. Galleries needed to see his jewelry before representing Matt; thus the need was born.
From registering a domain name to hosting to designing a harmonious style to showcase Matt's works of art, I worked with Matt to create exactly what he envisioned.
"I have been getting great feedback on my site and it was a good incentive for people to take my card and look me up. Thanks."
– Matt Willig
Micaville, NC
www.MattWilligDesigns.com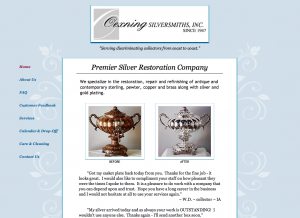 :: Website Upgrade
The silversmiths' website was an early '90's marvel, but needed an overhaul to compete in today's search engines.
The initial design remains true to the original designer — although I have developed it further. This was one of my first search engine optimizations (SEO) and the site has remained in the Top 10 for several of its keywords.
"I am very pleased with the updating and re-design work done to my website. I have definitely seen an increase in traffic, emails and phone calls as a direct result of your work.
I also appreciate the timely fashion in which requests for updates are made as well as with the help and suggestions you have given me on how to increase my presence on the web."
– Beth Walker
Bakersville, NC
www.OexningSilversmiths.com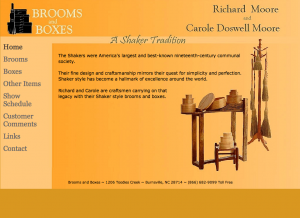 :: Website Upgrade
The untimely death of their webmaster presented unique challenges to Richard and Carole.
I expanded on their existing design and completed the site. The good news is that sales are up and they are very happy. 🙂
"I cannot recommend Kreg highly enough as a first class businessman with integrity who has helped us immensely when we thought we were dead in the water. He has a wonderful positive outlook and keeps at a challenge until it is thoroughly and satisfactorily resolved.
Our website is constantly improving with his suggestions and ideas. He implements whatever I want quickly and usually in a better way than what I thought of. If you are in need of a computer website technical person who you can trust, Kreg is your man!"
– Carole Doswell Moore
Burnsville, NC
www.BroomsAndBoxes.com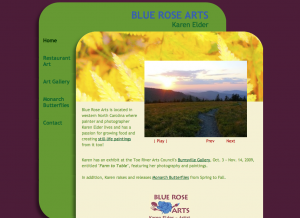 :: Website Design
Karen wanted a brand new website after several attempts by other web designers.
I presented a totally original design with custom headers and templates, shopping cart, slide shows and movies.
"Kreg gave attention to all my needs and details while composing with an artistic quality that made designing my website effortless and enjoyable. I just love it!"
– Karen Elder
Fort Bragg, CA
www.KarenElder.com